JenniferMason
Free Spirited | Feisty | Sentimental
Your birth story is important.
It's about you and your family, and it's pretty damn incredible, each and every time.
It doesn't matter how many babies you have had; you are reborn into a new mother each time. Birth is an empowering process, and we should embrace it for what it is; bringing life into this world. It should be celebrated, not feared.
In whatever way you choose to birth, whether it's at home in a tub, in the hospital, by cesarean, or an unexpected variation of what you were expecting, I'll be there with you.
Hi! I'm Jennifer, I'm a birth worker.
I'm an experienced birth photographer of 6+ years, a trained doula, as well as a videographer.
I'm a leader in the international birth photography community as the Co-Founder of Birth Becomes Her, and I'm excited to share the beauty of birth and to help remove the stigma and fear in birth. As an award-winning birth photographer, I've been published nationally and internationally. I've photographed over 100 births at home, at birth centers, and in hospitals, including cesarean birth.
I work with sentimental couples that embrace the empowering beauty of birth and the loving chaos of motherhood; I'm there to witness and authentically document your sacred birth story.
My family just moved back to Michigan from Colorado after living in the Rocky Mountains for 15 years; we came back to our roots to be closer to our family and to raise our children near them. We've relocated to Chelsea Michigan, and my little family is happily getting settled in. We just wish there was some more sunshine :)
Contact me today to chat more about your birth story.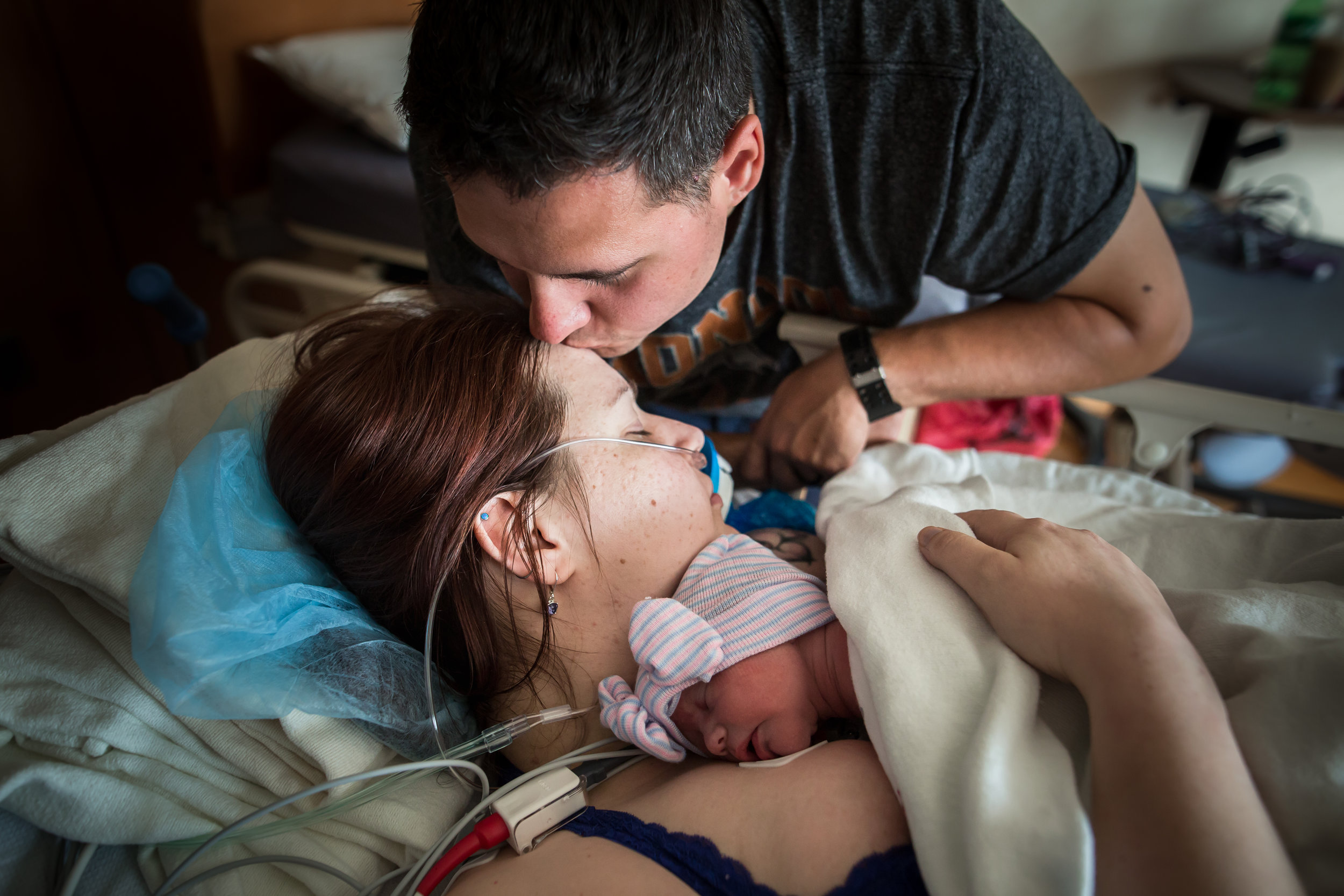 I love my delivery photos more than my wedding photos!
Jen took my maternity photos as well as my labor and delivery. She was very professional, and I'm so in love with the photos she delivered. She respected my birth space as well as the hospital staff. I highly recommend hiring Jen for you birth!
- Sara A | Labor and Delivery Nurse, Maternity and Birth Client
I will treasure always the moments she captured!
Jennifer was amazing to work with! She did maternity and birth photos for me. She is easy to work with and I love the style she uses incorporating nature into the maternity photos. Not awkward at all either to have her at the birth documenting the whole thing. You can tell she knows what she is doing, captures just the right moments at just the right angles;)She tells a beautiful story with her photos and I will never forget these memories thanks to her!!."
— Hanna Serena | Birth + Maternity + Postpartum Client
Jennifer was able to capture the most incredible and unique experience in our lives in the most amazing way.
Her energy was such a positive presence and I feel blessed to have had her be a part of our day.
— Alissa | Birth Client
Your Birth Story Matters
My daughter, Magnolia, was the inspiration for my journey into birth photography. Her birth turned from a 'beautiful birth-center birth' to an induction at a hospital and an eventual cesarean. It's hard to remember the entire process and I wish I could have photos to remember how my husband loved on me, how we kissed in the bath, how he held me up through contractions as my doula squeezed my hips for hours. Then we met her, in the Operating Room. I call her my muse, because it was from the moment of her birth, as I lay on the table, I knew every mother needed her birth story documented, no matter how it unfolds.
Now, seven years later, I'm grateful to capture births as a photographer and to support families as a doula. My mission is to help you have a birth that feels supported and positive. As a member of your birth team, I want you to feel that support from me from the time you book through postpartum.
Serving Detroit, Ann Arbor, Jackson and the surrounding areas.